Banana
Banana – very valuable for human nutrition
Sulphur – Improving nitrogen use efficiency
Banana – very valuable for human nutrition
Banana is one of the most important tropical fruits. Worldwide more than 50 Mio t of fruit are produced. Banana is considered as very valuable for human nutrition due to its high content of carbohydrates, minerals and vitamins.
Banana cultivation is one of the most intensive crop production systems. Plant protection and fertilisation must be perfectly matched to site specific conditions in order to guarantee consistently high yields and quality.
Only crops that receive a balanced fertilisation have the capacity to produce maximum yields and returns. Due to the high nutient content in the fruits, large quantities of minerals are removed from the soil.
Banana - high nutritional value
1.0 each
118.0 grams
108.56 calories

Nutrient

Amount

Daily value (%)

Vitamin B6

0.68 mg

34.0

Vitamin C

10.74 mg

17.9

Potassium

467.28 mg

13.4

Dietary fiber

2.83 g

11.3

Manganese

0.18 mg

9.0
Potassium – For higher yields
Potash application promotes bunch weight by increasing number of bunches, fruit number and size of the fruits.
Well supplied plants can contain > 5 % K in the dry matter of the 3rd leaf, a concentration of <3 % may be regarded as critical.
The effect of K supply on banana production
K rate
(kg ha-1)
Bunch wt
(kg)
No. of
hands/bunch
No. of
fruits/hand
Fruit length
(cm)
0
15.9
7.5
15.2
18.5
125
33.1
8.1
16.0
19.3
375
35.8
8.9
15.7
19.9
625
38.7
9.2
17.8
20.2
(Source PPI)
Magnesium
The nutrient magnesium is required for the development of the stem and leaves as well as the synthesis and accumulation of carbohydrates
To guarantee maximum yields, a minimum level of 0.3 % Mg in the leaf dry matter should be targeted. Mg supply can be increased by using only water soluble forms and by aiming for an optimum cation ratio in the soil
The ratio between magnesium and potassium should be ideally 1 : 4 on sandy and 1 : 2 on clayey soils
| Ratio | Value |
| --- | --- |
| Ca : Mg | 3.5 - 4 |
| Ca : K | 17 - 25 |
| Mg : K | 8 - 15 |
| (Ca + Mg) : K | 20 - 30 |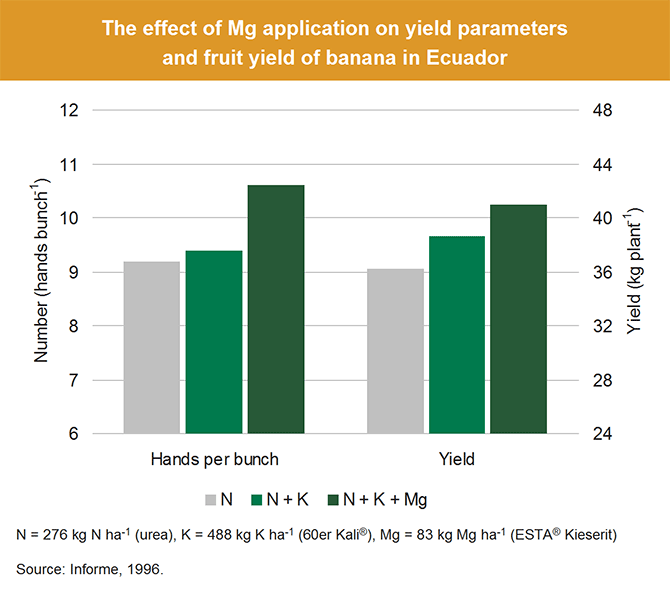 Sulphur – Improving nitrogen use efficiency
Adequate sulphur is required to partner nitrogen in the synthesis of proteins and carbohydrates. By supplying S, the uptake and assimilation of any applied nitrogen is maximised thereby improving N use efficiency
Banana is generally grown in the humid tropics with typically high annual rainfall and free draining soils. Because sulphur is predominately found in the anion form sulphate (SO4), which is easily leached under such conditions, a regular supply is required to maximise productivity
In many soils, a crop's requirement for S is supplemented by a natural source coming from organic matter but since tropical soils are typically poor in organic matter the S requirement far exceeds the natural supply. Therefore, sulphur containing fertilisers need to be included in the fertiliser planning
The critical concentration of S in banana leaves (leaf 3) is considered to be 0.23 %
Non-acidifying fertilisers are recommended as the humid tropics favour the development of soil acidity. It is very difficult to correct a soil acidity problem in an established plantation as banana is a perennial crop, which prefers a soil pH only in the slightly acid range of 5.5 - 6.5
ESTA Kieserite has no influence on the soil pH and is therefore an ideal sulphur source for ba-nana.
Fertiliser recommendations
The nutrients applied to banana should be calculated based on the target yield and the uptake per ton of yield.
Fertilizer – Recommendation to get 10-50 t ha-1 yield:
520 – 2630 kg ha-1 MOP to secure the potash supply
68 – 336 kg ha-1 ESTA Kieserite to secure the magnesium and sulphur supply
400 – 600 kg ha-1 ESTA Kieserite in the case of acute deficiency
Application should be in several split timings (12 - 25) to avoid short-term high Cl accumulation in the soil through MOP application and to reduce losses during periods of high rainfall.