Cereals
Fertilise cereals correctly – harvest quality
Potassium – essential for cereal yield
Potassium – the universal guarantee for high quality cereals
Cereal yield and quality insurance using magnesium and sulphur
Fertiliser recommendations for cereals
Fertilise cereals correctly – harvest quality
Besides the use of cereals for food and feed, the importance as a renewable energy resource for the production of biofuels is increasing.
The quality demands of cereals vary according to the destined end use, but a large proportion of these quality criteria can be positively influenced by judicious use of fertilisers. It is therefore important not only to optimise nitrogen supply but also to adjust the supply of potassium, magnesium and sulphur as well as that of trace elements. The quality of cereals is defined by the intended end use.
Depending on the end-use the following criteria are significant:
Bread-making

Animal feed

Seed crops

Beer brewing

Yield

+++

+++

++

++

Protein

+++

+

+++

Hagberg falling number

+++

Sedimentation value

+++

Thousand grain weight

+

+

++

++

Sieve size

+

++

++

Hectolitre-weight

+

++

Germination

+++

+++

Milling and brewing charateristics

+

+++

+ = of some importance; + + = important; + + + = particularly important
Potassium – essential for cereal yield
The grain yield of cereals is the sum of crop density (number of ear bearing shoots per square meter) and the yield of each ear (number of grains per ear and their thousand grain weight). By tailoring a specifc nutrient management program to the individual crop, these quality parameters can be successfully influenced.
Effect of potassium fertilisation on thousand grain weight (g)
Potash fertilisation
category

Winter wheat
(77 trials)

Winter barley
(72 trials)

Low

43.3

44.1

Optimal

45.8

46.9

Increase

+ 5.8 %

+ 6.3 %
Potassium – the universal guarantee for high quality cereals
Effect of potassium fertilisation on the protein content and sedimentation value
Potassium fertilisation category

Winter wheat
(37 Trials)

Winter barley (32 trials)

Protein Content

sedimentation
value

Protein
content

low

14,8

61

12,9

optimal

15,6

68

13,4

Increase

+ 5,4 %

+ 11,5 %

+ 3,9 %
Cereal yield and quality insurance using magnesium and sulphur
Magnesium
Sulphur
The nutrient combination of potassium and magnesium (as well as sulphur) in Korn-Kali® results in significantly higher yields and an increased efficiency of nitrogen fertilisation in comparison to 60er Kali® (muriate of potash, straight potassium chloride) which contains no magnesium or sulphur.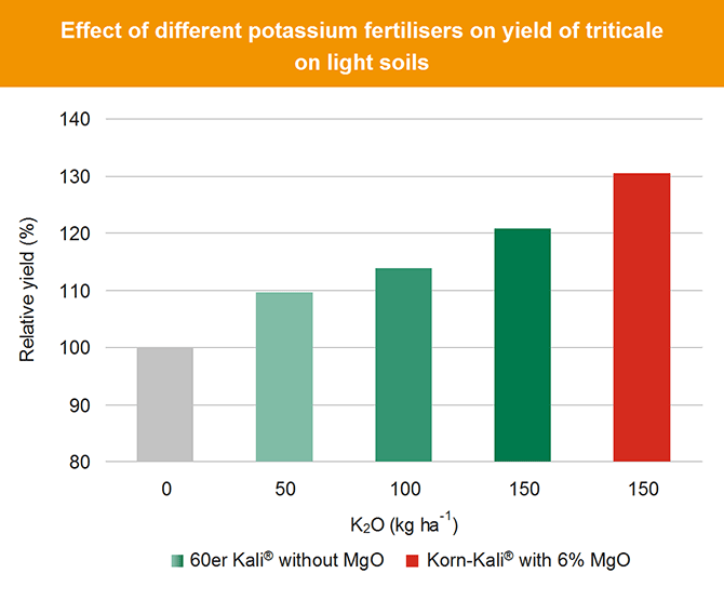 Fertiliser recommendations for cereals
Fertiliser is applied in order to maintain the fertility of the soil so that its natural yield potential can be protected over the long term. This requires the maintenance of an optimal nutrient content in the soil. Nutrients removed with the harvest have to be replaced through an adequate application of fertiliser. Together with the replacement of removed nutrients adjustments have to be added for site specific losses (for example: leaching or erosion).

The total removal of a plant results from the nutrient uptake of the main crop (e.g. grain, tubers or beets) and the uptake of harvest residues (e.g. straw, leaves). If the harvest residues remain on the field, only the removed nutrients by the main crops have to be replaced.
Recommendations for soil applications
When planning a fertiliser program for cereals, both the soil fertility and condition and also the required quality of the end product must be taken into account.
Total removal

(incl. harvest residues)

Removal through main crop
Fertiliser recommendation due to nutrient uptake


with optimal nutrient soil content class (per hectare)

Total removal of

Through main crop

(kg ha-1)
K2O / MgO / SO3
(kg ha-1)
K2O / MgO / SO3
Potassium
Magnesium
Potassium
Magnesium
Cereals
(at a yield level of 8t)
140 / 30 / 50
50 / 20 / 40
350kg Korn-Kali®
120kg ESTA® Kieserit
125kg Korn-Kali®
100kg ESTA® Kieserit
Recommendations for foliar applications