Grain legumes
Grain legumes effectively build soil fertility for following crops.
Potassium is the foundation for high yields
Magnesium and sulphur for high protein content and quality
General information
Field beans, peas and lupins are just a few of the large-grain legume types grown today. They are particularly rich in protein and are characterised by a high energy value. Domestic grain legumes are mainly used as a supplementary feedstuff, to complement bought in animal feed.
Sustainably high yields may only be achieved by optimised production methods and central to this is a specifically tailored nutrient supply. Grain legumes are able to fix atmospheric nitrogen, due to a rhizobia bacterium which can be found on its root nodules. An adequate supply of potassium, magnesium and sulphur is of para-mount importance in helping this N generating system to work efficiently.
Grain legumes effectively build soil fertility for following crops.
Grain legumes...
fix atmospheric nitrogen, aided by rhizobia. Crop residues provide this nitrogen as a sustainable source of nitrogen to subsequent crops.
generally have deep tap roots (esp. field beans and lupins), which help to improve soil structure and allow for nutrient absorption from deeper soil layers.
promote soil fertility, as they are excellent soil conditioners, leaving behind friable soils with stable humus forms.
favourably influence the soils' field capacity and microbial activity.
are a very useful alternative break crop for many rotations
Effectively break the life cycle of many soil-borne pathogens.
Potassium is the foundation for high yields
Potassium is instrumental for N-fixation facilitated by rhizobia and therefore also for seed and protein production.
This effect is partially due to increased node development, but also to enhanced microbial activity.
Sufficient potassium supply promotes the creation of proteins from amino acids, as potassium activates the responsible enzymes.
Within a period of six weeks (prior to, and during flowering) grain legumes take up their entire potassium requirement of around 220-270 kg K2O ha-1.
At maturity, plants including dead leaves contain approxi-mately 170-200 kg K2O ha-1, of which 40% is to be found in the seeds.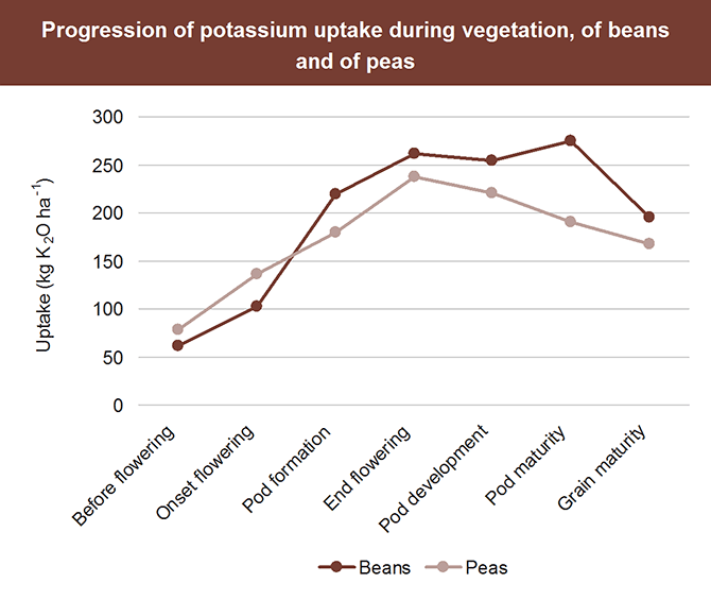 Magnesium and sulphur for high protein content and quality
As protein-rich plants, grain legumes have high magnesium and sulphur requirements.
Sufficient supply of magnesium to the crop guarantees pro-longed assimilation by the leaves, thereby assuring optimal carbohydrate storage in the seeds. This favourably influences yields.
Magnesium activates a variety of enzyme systems in the protein metabolism, thereby influencing protein content and quality.
Sufficient supply of sulphur results in a more efficient utilisation of nitrogen, thereby increasing yields.
Sulphur is indispensable for the creation of sulphur-containing amino acids, and therefore for the entire protein synthesis.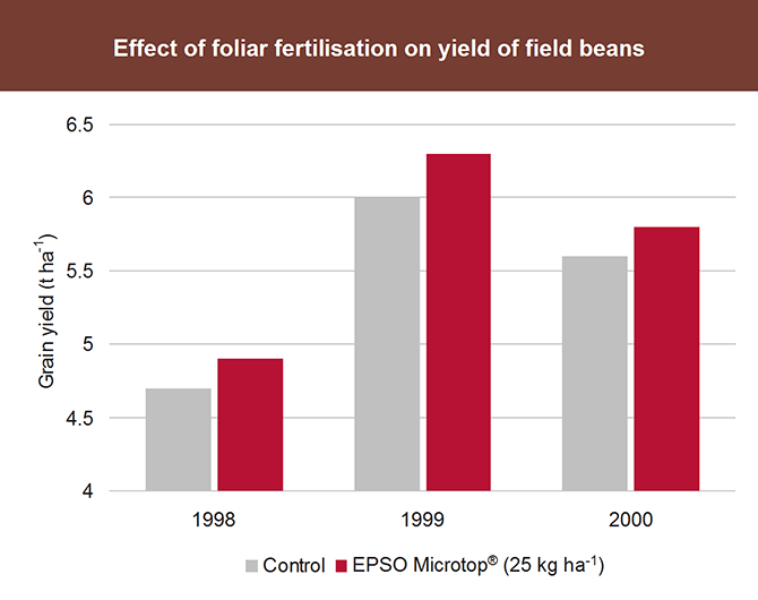 Fertiliser recommendations
Recommendations for soil conditioning
300–400 kg ha-1 Korn-Kali as an autumn application, for meeting potassium requirements; at the same time, magnesium and sulphur supplies are secured 

400–500 kg ha-1 Patentkali for soil conditioning just before sowing, e.g. on lighter soil, in order to prevent salt accumulation damages. At the same time, magnesium and sulphur needs are met. 

200 kg ha-1 ESTA Kieserite gran., on Mg-deficient locations. In case of a wide K:Mg ratio in the soil, 300–400 kg ha-1 should be applied. This also ensures an adequate supply of sulphur. 
Recommendations for foliar fertilisation
A total of * 20-25 kg ha-1 EPSO Microtop in a 5% concentration, for meeting peak demands, i.e. for rectifying latent deficiencies of magnesium, sulphur and trace minerals. Product may be applied in several split applications.