Maize
Maize – the high performance crop
Potassium – the foundation for a reliable maize-yield
Magnesium – the guarantee for full cobs
Unlock maize yield reserves directly with boron and manganese
Fertiliser recommendations for maize
Video on Nutrient supply for maize
Maize – the high performance crop
Maize is utilized in many different ways. Besides the traditional use as grain or as silage, maize is increasingly used as a renewable energy resource in the production of biogas. There are also many industrial uses for example as an absorbent material for oil spillages and as a packing and cushioning material.

What makes maize a high performance crop?
More progress has been made in the selection and breeding of maize varieties than any other crop.
Maize is highly efficient in converting light energy into yield.
Maize reaches a high daily increase in biomass and thus produces a high quantity of biomass in a short period of time.
Maize has the ability to convert large amounts of nutrients into yield and valuable components.
The optimum supply of nutrients is therefore of significant importance to fulfill its immense potential.
Nutrients removed by maize at 2 different yield levels
Yield
(t ha-1 DM*)

Nitrogen
(kg ha-1)

Phosphorus
(kg ha-1)

Potassium
(kg ha-1)

Magnesium
(kg ha-1)

15

190
80
225
45

20

305
125
360
75

25

420

170

495

105
* assuming 30% dry matter in the fresh weight
Potassium – the foundation for a reliable maize-yield
From a short time after sowing until the development of the flag leaf around the end of July, maize has an average uptake of 240kg K2O ha-1.
Animal slurry as a source of potassium (K) is insufficient to fulfil the full yield potential.
A mineral based potassium supply consistently results in visibly superior crops, even under less favourable growing conditions.
Adequate available potassium during the main growing period results in a strong maize plant reduces stalk rot and therefore helps to prevent problems during harvest and yield losses due to lodging.
The best possible effect of potassium is only achieved in combination with magnesium (Mg).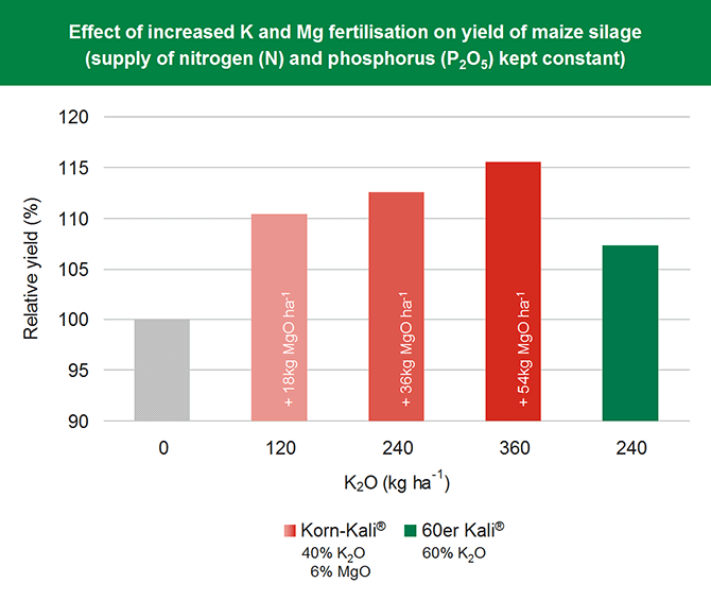 Magnesium – the guarantee for full cobs
Maize requires between 50-70kg MgO ha-1. Of this Mg demand, approximately two thirds are taken up within the period of 4 to 6 weeks between row closure and flowering. The following factors need to be considered:
To ensure an optimum supply of magnesium, the ratio of potassium to magnesium in the soil should not be greater than 2:1.
Animal slurry alone with a K:Mg ratio of around 4.5:1 cannot guarantee this optimum supply of magnesium.
A good supply of magnesium secures the chlorophyll content of leaves; this ensures the high performance of the maize crop.
High assimilation rates together with an improved translocation of photosynthetic products are the basis for full grain development.
Effect of band application at sowing and side-dressing in rows with granular ESTA® Kieserit on maize yield (K+S – field trials over 4 years and 14 locations)
| Normal farm fertilisation | plus 200-400 kg ESTA® Kieserit gran. ha-1 |
| --- | --- |
| 100 %* | 108% |
* Yield potential approx. 9 t dry matter ha-1 grain and approx. 16 t dry matter ha-1 silage
Unlock maize yield reserves directly with boron and manganese
Boron
Maize belongs to the group of boron responsive crops and requires 150-200g boron ha-1.
The supply of boron coming from animal slurry is negligible.
Boron is responsible for the efficient transport of sugars produced and for subsequent synthesis of starch.
Boron supports generation and development of grains and cob.
The optimum development of grain rows and of the cob requires the availability of adequate quantities of boron during the 4 to 10 leaf stage.
A good supply of boron shifts maize yield in favour of grain and cob and, therefore improves not only the feed quality through the increased energy content but also its economic value.
Manganese
Similar to magnesium, manganese has a central role in the synthesis of chlorophyll and in photosynthesis. It helps to ensure optimum assimilation of the maize plant which has positive effects on yield.
The increased growth of secondary side roots improves the uptake of nutrients from the soil.
Only a well supplied crop can guarantee a high output potential.
To avoid competition for nutrients, a foliar application of manganese should always be combined with magnesium.
Fertiliser recommendations for maize
Fertiliser is applied in order to maintain the fertility of the soil so that its natural yield potential can be protected over the long term. This requires the maintenance of an optimal nutrient content in the soil. Nutrients removed with the harvest have to be replaced through an adequate application of fertiliser. Together with the replacement of removed nutrients adjustments have to be added for site specific losses (for example: leaching or erosion).
The total removal of a plant results from the nutrient uptake of the main crop (e.g. grain, tubers or beets) and the uptake of harvest residues (e.g. straw, leaves). If the harvest residues remain on the field, only the removed nutrients by the main crops have to be replaced.
Recommendations for soil applications
The table shows fertiliser recommendations calculated on the nutrient uptake of the main crops on base of an optimal soil nutrient content. Adjustments for site-specific losses due to leaching, fixation or erosion are not taken into consideration.
Total removal

(incl. harvest residues)

Removal through main crop
Fertiliser recommendation due to nutrient uptake


with optimal nutrient soil content class (per hectare)

Total removal of

Through main crop

(kg ha-1)
K2O / MgO / SO3
(kg ha-1)
K2O / MgO / SO3
Potassium
Magnesium
Potassium
Magnesium
Maize for grain and silage
(at a yield level of 9 t)
230 / 61 / 40
50 / 31 / 25
575 kg Korn-Kali®
245 kg ESTA® Kieserit
125 kg Korn-Kali®
125 kg ESTA® Kieserit
Energy maize
(at a yield level of 22 t)
370 / 50 / 62
925 kg Korn-Kali®
200 kg ESTA® Kieserit
Recommendations for foliar applications
EPSO Microtop® or EPSO Combitop® for micronutrient supply. We recommend approx. 25 to 40 kg ha-1 as a 5% solution (5 kg per 100 l water) during the 4-10 leaf stage; split applications could be considered.
Video on Nutrient supply for maize
Nutrient supply for maize – optimized growth – increased yield
Maize is a high-performance crop with a wide variety of end-uses, making great demands on both potassium and magnesium supply. Nutrient requirements for maximising yield are varied; the importance of phosphorus, boron and manganese for the development of a strong stem should definitely not be underestimated.
Listen to and watch what our specialist consultant has to say on the topic of maximising maize productivity through targetted crop nutrition.