Oilseed rape
Oilseed rape requires potassium
Magnesium und Sulphur for a high oil content in oilseed rape
Boron fertilisation – standard practice in oilseed rape
Attention to provision of manganese on high organic matter soils
Fertiliser recommendations for oilseed rape
Video on nutrient supply to rapeseed
Rapeseed for oil and energy
The oilseed rape crop is of enormous importance for many agricultural producers. Since rapeseed oil is a highly nutritious cooking oil, demand on the world market is rapidly increasing. In addition, large volumes are required for processing oil into biofuels as a renewable energy source, adding to the demand for the crop.
Oilseed rape has great cultural benefits. The introduction of a combinable broad-leaved crop in crop rotation instead of a cereal monoculture can increase yields of winter wheat by up to 10%. Furthermore, crop rotation with rapeseed reduces pest and disease pressure. Oilseed rape is a crop which is particularly suited to minimum tillage farming which represents savings to the grower in time, energy and costs.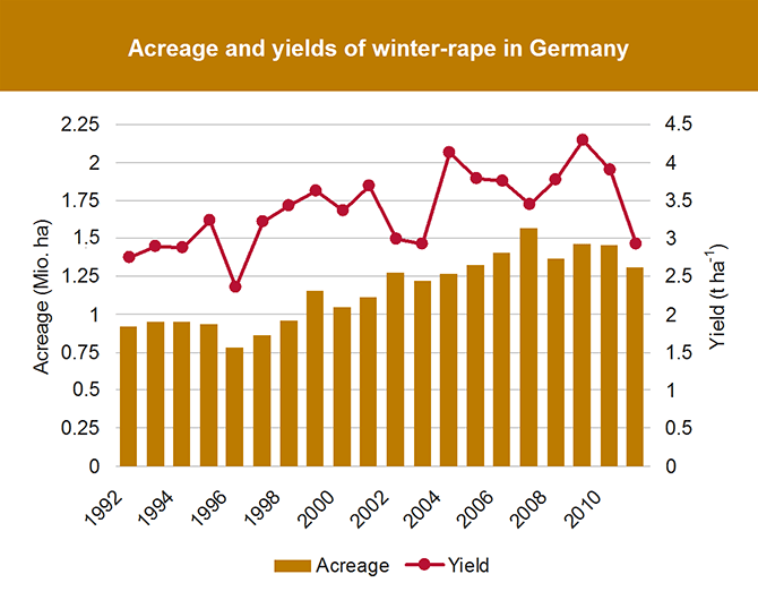 Oilseed rape requires potassium
Rape seed has specific nutrient requirements. For an optimum yield, it requires – besides nitrogen – especially potassium.
In spring, at the beginning of the growing season, large amounts of potassium are taken up in a short period of time since potassium uptake precedes biomass production.
When the canopy is fully developed, a crop of rapeseed can contain up to 400kg K2O ha-1.
Depending on the development of the plant, by the beginning of winter, the crop may already have taken up 100kg K2O ha-1.
A good supply of potassium increases the frost resistance of the crop and, therefore, results in fewer losses during harsh winters.
Plants are able to cope with drought stress more effectively due to their optimized water balance.
The synthesis of oil is aided by the activation of enzyme metabolism.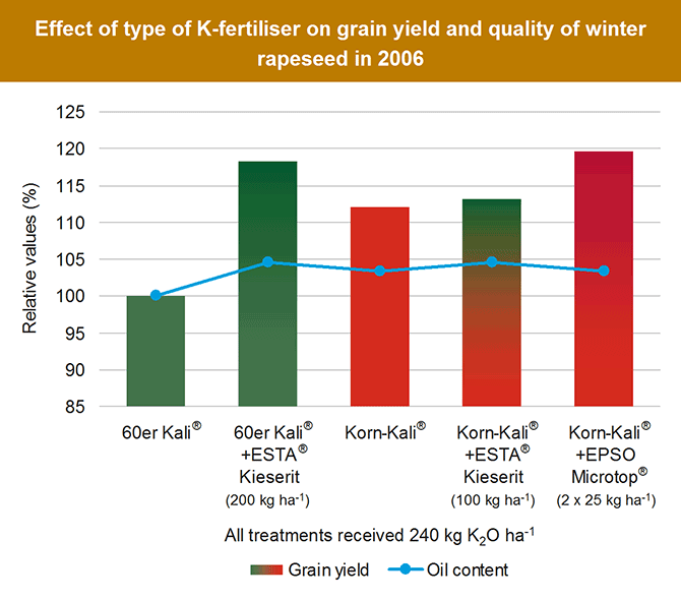 Magnesium und Sulphur for a high oil content in oilseed rape
Magnesium
The majority of magnesium (Mg) required is taken up before pod development.
The magnesium requirement of oilseed rape is approximately 60kg MgO ha-1.
Following a severe winter with large foliage losses, a sufficient supply of magnesium is important for the development of new leaves.
An improved assimilation by the plant, especially by the pods, positively affects the synthesis of oil and overall yield.
Sulphur
With a requirement of 50-70kg sulphur ha-1, rapeseed has a very large sulphur demand.
An optimum sulphur supply results in a more efficient utilization of nitrogen and, therefore, has a positive effect on yield.
Oil content is positively affected by sulphur as it is directly involved in the synthesis of fatty acids.
Minor temporary sulphur deficiency may be controlled until late budding by means of foliar applications of ESPO products without any yield loss. However, more prolonged deficiency can result in yield losses of up to 75%.
The uptake of magnesium in oilseed rape occurs parallel to the uptake of sulphur (parallel in terms of time and amount) and, therefore, a combined application of both nutrients is recommended.
Organic fertilisers and manures are generally insignificant sources of sulphur for this demanding crop.
Boron fertilisation – standard practice in oilseed rape
Oilseed rape belongs to the group of boron requiring crop plants.
During the growing season oilseed rape can take up approximately 350-450g boron ha-1.
Swollen lower parts of stems, compressed growth, development of root cavities, reduced growth of secondary side roots, as well as poor pod set post flowering are possible effects of an insufficient supply of boron which can adversely affect yield.
Therefore for oilseed rape growing areas it is advisable to include boron content in soil analyses.
Boron content of lighter soils should not be lower than 0.2-0.5mg boron per kg soil and for heavy soils no less than 0.25-1.2mg boron per kg soil using CAT-analysis.
Attention to provision of manganese on high organic matter soils
Shortages in the supply of manganese occur predominately on soils with high organic matter content and/or high pH values or after applications of lime.
Manganese, like magnesium, affects synthesis of chlorophyll and photosynthesis. This ensures a high assimilation rate and positively affects yield.
The increased growth of secondary side roots improves the uptake of nutrients from the soil.
Only in a well supplied crop the full yield potential can be reached.
To avoid competition of nutrients, a foliar application of manganese should always be combined with an application of magnesium.
Fertiliser recommendations for oilseed rape
Fertiliser is applied in order to maintain the fertility of the soil so that its natural yield potential can be protected over the long term. This requires the maintenance of an optimal nutrient content in the soil. Nutrients removed with the harvest have to be replaced through an adequate application of fertiliser. Together with the replacement of removed nutrients adjustments have to be added for site specific losses (for example: leaching or erosion).

The total removal of a plant results from the nutrient uptake of the main crop (e.g. grain, tubers or beets) and the uptake of harvest residues (e.g. straw, leaves). If the harvest residues remain on the field, only the removed nutrients by the main crops have to be replaced.
Recommendations for soil applications
The table shows fertiliser recommendations calculated on the nutrient uptake of the main crops on base of an optimal soil nutrient content. Adjustments for site-specific losses due to leaching, fixation or erosion are not taken into consideration.
Total removal

(incl. harvest residues)

Removal through main crop
Fertiliser recommendation due to nutrient uptake


with optimal nutrient soil content class (per hectare)

Total removal of

Through main crop

(kg ha-1)
K2O / MgO / SO3
(kg ha-1)
K2O / MgO / SO3
Potassium
Magnesium
Potassium
Magnesium
Oilseed rape
(at a yield level of 4t)
210 / 40 / 50
40 / 20 / 40
525kg Korn-Kali®
160kg ESTA® Kieserit
100kg Korn-Kali®
100kg ESTA® Kieserit
Recommendations for foliar applications
20-25kg EPSO Top® ha-1 or EPSO Microtop® as a 5% concentration for periods of high demand or for the control of latent deficiency of magnesium and sulphur, as well as for deficiency of trace minerals. Several split applications should be given between rosette and flowering stage.
Video on nutrient supply to rapeseed
Nutrient supply for rapeseed – improved growth – increased yield
Rapeseed is an important crop, partly due to the increased demand for premium edible oils on world markets, but also due to its use as a renewable raw material for bio diesel. For its growth, rapeseed relies on an ample supply of potassium and magnesium. However sulphur, boron and manganese are also important nutrients for optimal rapeseed yield formation.

Listen to and watch what our consultant has to say on the production of top-grade rapeseed crops and yields.