Pineapple
Pineapple – The most popular tropical fruit
Magnesium and sulphur – For higher yields and crop health
Boron - An important micronutrient for pineapple
Pineapple – The most popular tropical fruit
Pineapple is one of the most popular tropical fruits in the world. The current world production is about 13 million tons. The two South East Asian countries, Thailand as the main producer followed by the Philippines, produce together around 27% of the global output. The fruits are rich in sugar and are an important source of citric acid, vitamin C, potassium and chloride. Pineapple is either consumed as a tasty and juicy fresh fruit or processed into slices, compotes and juice. The pineapple plant is characterized by a relatively poor root system.and is therefore success with pineapples is heavily reliant on a robust fertiliser program which adequately supplies the quantity and quality of nutrients required for maximum productivity.
Potassium – For tasty fruits
potassium has a crucial role in the production of large yields combined with fruit quality
potassium stimulates plant growth, fruit size, fruit aroma and taste by enhancing the production of sugars and acids (especially ascorbic acid)
potassium improves the content of vitamin C and promotes the a fuller flesh colouration
Until flower initiation, the potassium concentration in pineapple exceeds that of nitrogen by a factor of two. Irrigated pineapples generally require between 12 and 15 g K2O plant-1, e.g. 450 – 650 kg K2O ha-1, depending on plant density. It is recommended that two thirds of the total K demand should be soil applied and one third through foliar application. The N:K ratio in pineapple fertilisation has a great influence on fruit quality and needs to be widened with progressive age of the crop during growth, e.g. from 1.0:1.6 at 2 months after planting, up to 1.0:2.0 before flower initiation and 1.0:2.2 at harvest.
High chloride concentrations in the soil may result in a decrease in the osmotic potential of the soil solution, especially at low soil moisture, limiting water and nutrient uptake by the plants. Furthermore, chloride may lead to a reduced coloration and flat taste, often combined with an imbalanced sugar:acid ratio. The sugar:acid ratio can be adjusted by the MOP:SOP ratio, with the former promoting the acid and the latter the sugar formation. In extreme cases, large amounts of KCl application may lead to chloride damage (leaf necrosis) and decreased fruit size. SOP is the potash source which is ideal to supply the high K demand of the crop and also can overcome deficiency.
Magnesium and sulphur – For higher yields and crop health
Pineapples are very responsive to magnesium and sulphur applications. For a yield of 50 t, pineapples take up about 24 kg Mg and 20 kg S of which approx. one fourth is removed in the harvested crop. Magnesium is needed to balance the large amounts of potassium required by pineapple.
magnesium promotes the photosynthetic activity and hence the carbohydrate and sugar supply to the growing fruits
magnesium enhances taste, fruit size and colouration of fruits
sulphur is involved in protein production and is essential to produce plant generated antibodies to inhibit the growth and reproduction of diseases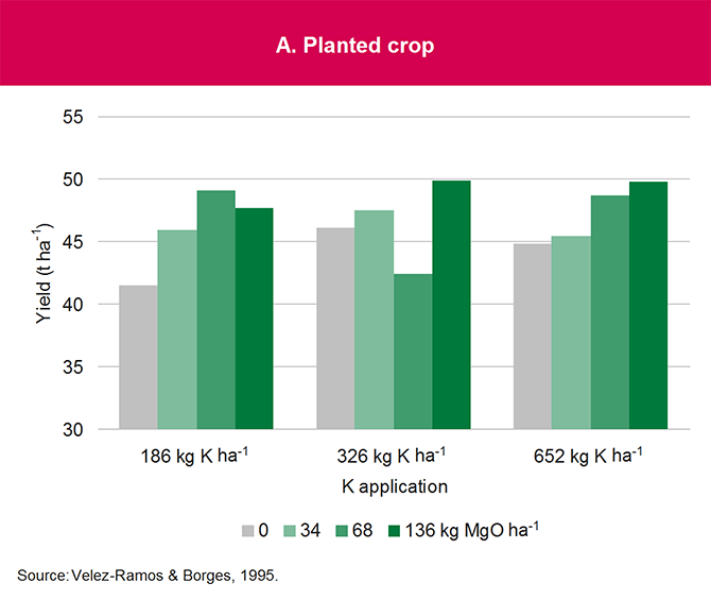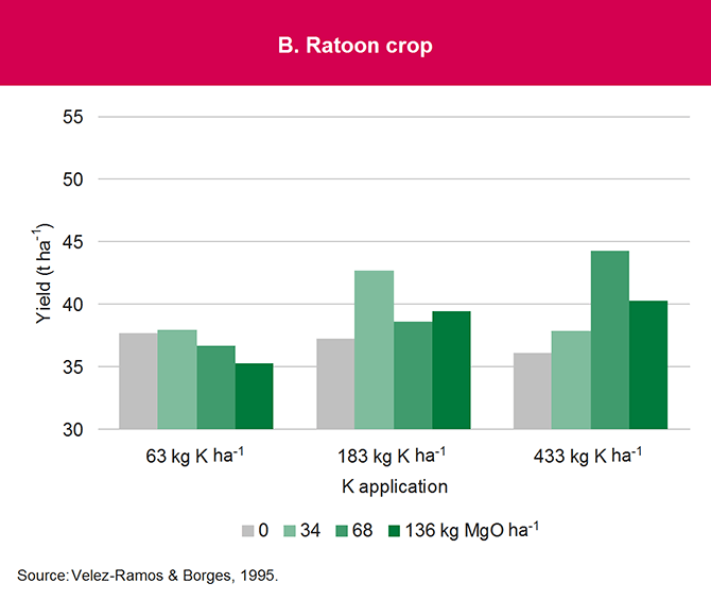 Boron - An important micronutrient for pineapple
On heavily weathered, sandy soils, the reduced supply of micronutrients often limits yield, especially if low moisture supply is further restricting the uptake.
boron is directly responsible for fruit formation
without adequate boron, root formation is abnormal and fruits are often deformed and are easily damaged during harvest and transport
to secure a sufficient supply of Boron, pineapple leaf tissues should contain 15 – 100 mg kg-1 (The boron concentrations in the leaf tissue should not exceed 200 mg kg-1 due to possible toxic effects)
Fertiliser recommendations
ESTA Kieserite is an ideal source of magnesium and sulphur for pineapple which prefers acid soils. ESTA Kieserite which does not alter the soil pH is hence preferable to magnesian limestone, which is only recommended on extremely acid soils (pH < 4.5).
| | | Potassium recommendation (SOP) | | Magnesium recommendetion (ESTA Kieserite) |
| --- | --- | --- | --- | --- |
| Planted crop | | 600 - 1200 kg ha -1 | | 400 - 550 kg ha -1 |
| Ratoon crop | | 200 - 400 kg ha -1 | | 280 - 400 kg ha -1 |
In order to minimise nutrient losses, the fertiliser should be applied in several split applications during vegetative growth:
| Time of application | | K and Mg doses (% of total) |
| --- | --- | --- |
| Planted crop | | |
| Basal | | 40 % |
| At 6 month | | 30 % |
| At 12 month | | 10 % |
| At 18 month | | 20 % |
| Ratoon crop | | |
| After harvest of planted crop | | 60 % |
| At flower initiation | | 40 % |