Potato
Potato – a food product and renewable raw material
Potassium for reliable yield and highest potato quality
Different demands on potato quality
Magnesium, boron and manganese – providing a little extra through foliar application
Fertiliser recommendations for potatoes
Video on nutrient supply to potatoes
Potato – a food product and renewable raw material
In recent times, the range of uses for potatoes has steadily increased. Besides the traditional use as a food, the importance in the area of non-food products is steadily increasing. For example, the extracted potato starch is used as a raw material in paper manufacture, building materials, adhesives, cleaning materials, pharmaceutical products and also in both the biotechnology and cosmetic industries.
The economic viability of the potato crop is determined by yield and quality. The foundation for success includes not only the selection of suitable varieties tailored to the target market, but also an advanced crop management program. Among crop management practices, adequate fertilisation is vital for potato crops, as the requirement for nutrients by this crop is considerable. Fertilisation adapted to the yield potential also positively affects many quality characteristics. In addition, the resistance of plants and the shelf life of tubers are enhanced.
Potassium for reliable yield and highest potato quality
Potassium has a significant effect on yield and quality as the uptake by plants is very high compared to other nutrients. Indeed the potato crop takes up approx. 60kg K2O per 10t tuber yield.
Potassium has a positive effect on:
Canopy health
Efficiency of nitrogen fertilisation
Water balance of plants
Tuber yield and vitamin C content
Reliability of yield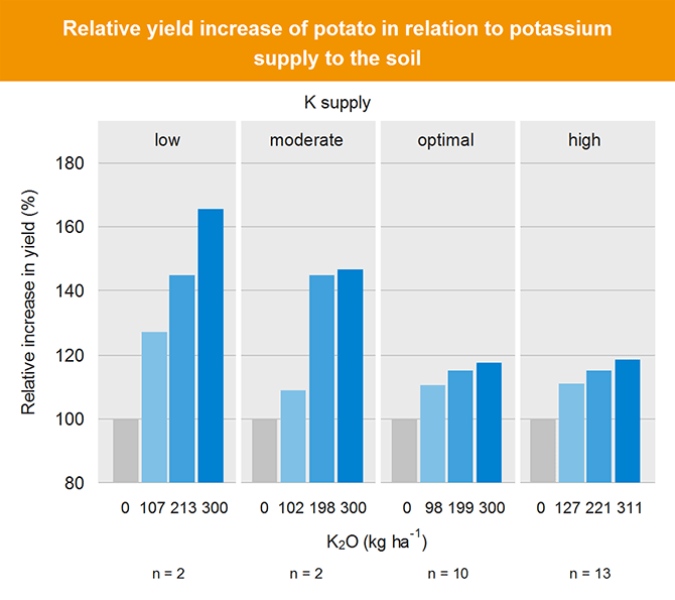 Different demands on potato quality
The desired quality of potato crops depends on the intended use (table, processed, starch or seed potato). For example, processed products such as crisps and chips require a medium starch content, while starch production requires a high starch content.
The starch content is less important for cooking potatoes. However here cooking quality of potatoes is very important. This means that potatoes should not disintegrate when cooked and should not discolour.
To meet these diverse demands on the quality of potatoes, the selection of suitable varieties as well as adequate fertilisation are important.
In particular, the nutrient potassium influences many quality characteristics which in turn positively affect the proportion of marketable product:
Potassium decreases the incidence of discolorations such as internal blackening and blackspot.
Potassium increases citric acid content as well as vitamin C content and affects the starch content of the tuber.
Potassium decreases reducing sugar content (important for the processing industry).
An optimum supply of potassium improves harvest and storage characteristics. This results in a reduced susceptibility to bruising because tubers are well matured.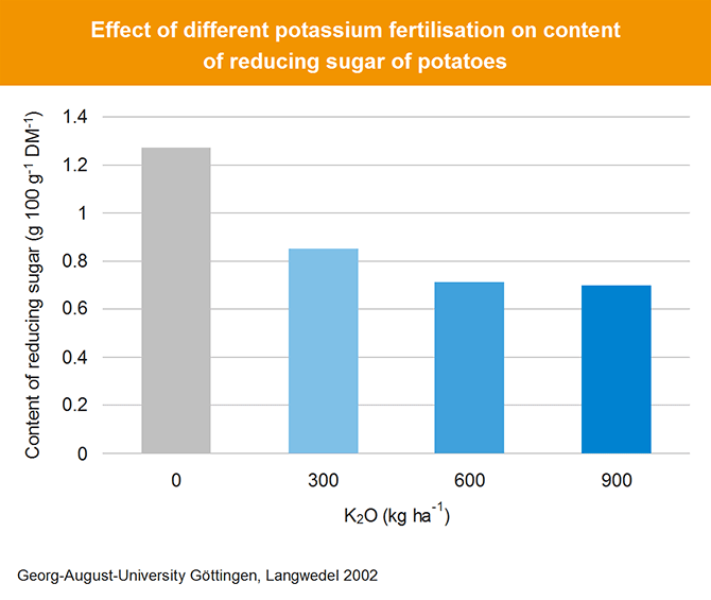 Magnesium, boron and manganese – providing a little extra through foliar application
Potatoes are frequently grown on lighter soils where the supply of magnesium must be guaranteed using fertilisers.
Magnesium is essential for the assimilation of the plant and affects not only protein and carbohydrate synthesis but also their transport and storage in the tuber.
Magnesium as well as manganese increases the concentration of valuable components such as citric acid and vitamin C. In addition, they enhance the resistance of tubers against discoloration during processing.
Boron is important for cell development, stabilization of cell walls and for the synthesis of energy rich components such as sugar and starch. The positive effect of magnesium (and the trace minerals manganese and boron) on the reduction of black spot of potatoes has been confirmed in field trials with EPSO Top® and EPSO Microtop®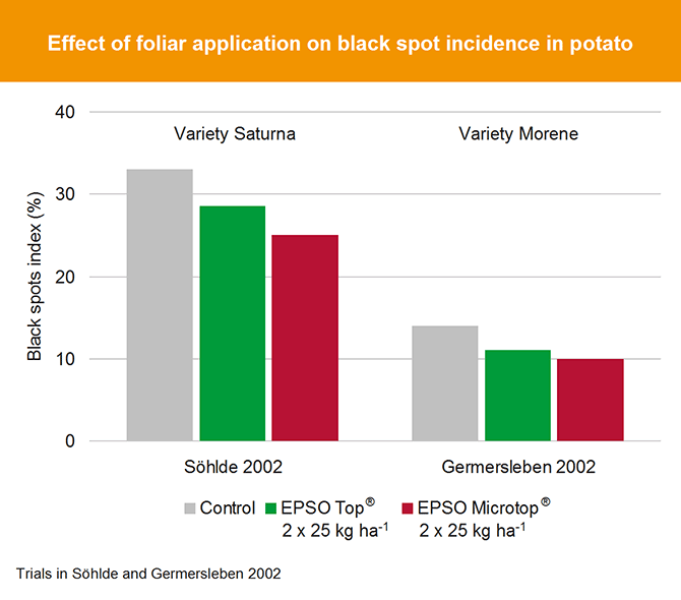 Fertiliser recommendations for potatoes
Fertiliser is applied in order to maintain the fertility of the soil so that its natural yield potential can be protected over the long term. This requires the maintenance of an optimal nutrient content in the soil. Nutrients removed with the harvest have to be replaced through an adequate application of fertiliser. Together with the replacement of removed nutrients adjustments have to be added for site specific losses (for example: leaching or erosion).

The total removal of a plant results from the nutrient uptake of the main crop (e.g. grain, tubers or beets) and the uptake of harvest residues (e.g. straw, leaves). If the harvest residues remain on the field, only the removed nutrients by the main crops have to be replaced.
Recommendations for soil applications
The nutrient potassium (as potash) is best applied exclusively in the sulphate form since potatoes are susceptible to chloride toxicity. The best time for application of potash is generally just before planting.
Potato fertilisation needs to be adjusted to the expected yield and to the intended end-use of the crop.
The table shows fertiliser recommendations calculated on the nutrient uptake of the main crops on base of an optimal soil nutrient content. Adjustments for site-specific losses due to leaching, fixation or erosion are not taken into consideration.
Total removal

(incl. harvest residues)

Removal through main crop
Fertiliser recommendation due to nutrient uptake


with optimal nutrient soil content class (per hectare)

Total removal of

Through main crop

(kg ha-1)
K2O / MgO / SO3
(kg ha-1)
K2O / MgO / SO3
Potassium
Magnesium
Potassium
Magnesium
Tuber yield 45 t
300 / 25 / 30
270 / 18 / 27
1000kg Patentkali®
100kg ESTA® Kieserit
900kg Patentkali®
90kg ESTA® Kieserit
Recommendations for foliar applications
20-25kg EPSO Top® ha-1 in a 5% solution (5kg per 100l) for magnesium- or sulphur deficiencies

20-25kg EPSO Microtop® ha-1 in a 5% solution (5kg per 100l) for high periods of high demand as well as control of latent deficiency of magnesium, sulphur, boron and manganese.
Video on nutrient supply to potatoes
Nutrient supply for potatoes – optimal growth – increased yield
Yield and quality determine the profitability of potato cultivation and optimal fertilisation is a critical factor for both. Of all nutrients required, potassium is taken up in the greatest quantity and is of paramount importance if high yields of quality potatoes are to be achieved. In addition, magnesium, manganese and boron are essential nutrients for increasing yield and improving quality.
Listen to, and watch what our consultants have to say on the production of top-grade potato crops and yields.