Soybean
Soybean – for high quality protein and oil
Potassium – for healthy, high yielding plants
Magnesium and sulphur – for optimum yield and quality
Boron and manganese - for maximum exploitation of the yield potential
Soybean – for high quality protein and oil
Soybean is a legume that grows in tropical, subtropical and temperate climates. The biggest soybean producers are the United States, Brazil, Argentina and China. Soybean is an important source of high quality protein and oil. With an average protein content of 40% and an oil content of 20%, soybean has the highest protein content of all food crops. Because of its high protein, oil and carbohydrate content soybean is very versatile crop. The oil produced from soybean is highly digestible and contain no cholesterol. Furthermore, Soybean cake, a by-product from the oil production, is used as a high-protein animal feed in many countries.
Potassium – for healthy, high yielding plants
Soybeans require large amounts of potassium, especially during the period of rapid vegetative growth. Potassium status has a major effect on both yield and quality of the crop:
potassium is important for enzyme activation, osmotic turgor regulation and transport of assimilates, e.g. starch and sugar
potassium is necessary for carbohydrate and protein metabolism which is essential for vegetative growth and for pod and seed formation
an adequate potassium supply reduces preharvest pod shedding
potassium promotes root nodulation (N-fixation from Rhizobium bacteria)
plants which are sufficiently supplied with potassium lose less water per unit leaf area due to more efficient transpiration
potassium has positive influences on seed quality by minimizing the number of shrivelled, shrunken, mouldy and off-colour beans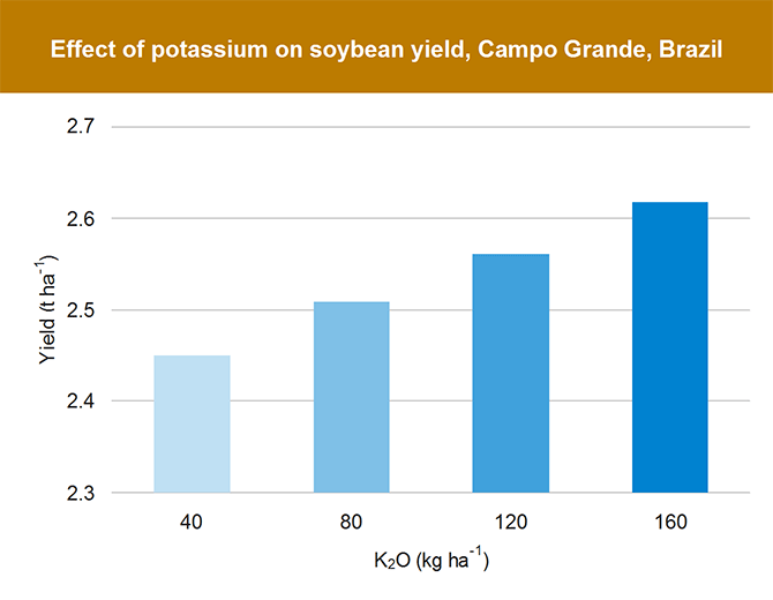 Magnesium and sulphur – for optimum yield and quality
Magnesium plays en essential role in soybean production but its importance is often overlooked in fertiliser plans
soybean is a rapidly growing crop which needs sufficient amounts of magnesium in order to promote photosynthesis and protein formation
magnesium is the central atom of the chlorophyll molecule which sustains healthy green leaves
magnesium plays a crucial role for the translocation of starch from the leaves to the pods and grains
magnesium is required in all energy consuming processes, e.g. protein and oil synthesis
in acid soils, magnesium helps to alleviate root growth depression which may be caused by aluminium toxicity
Sulphur
sulphur is required for the formation of protein and therefore also for the formation of nitrogen fixing nodules on soybean roots
a reduced number of nodules results in inhibited N2 fixation, which limits yield formation, especially if no additional mineral N is applied
the synthesis of oil and fats from carbohydrates is dependent not only on satisfactory magnesium status, but also an adequate supply of sulphur
sulphur promotes oil formation and ease of extraction and is directly linked to the quality of harvested seeds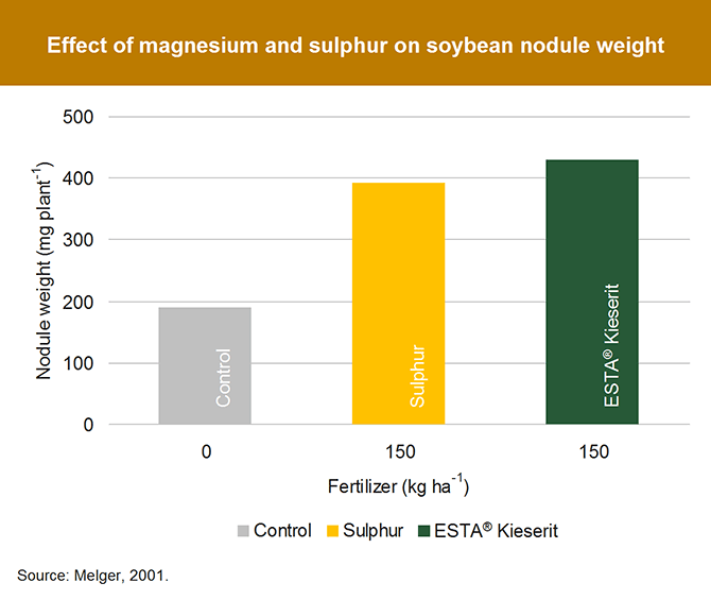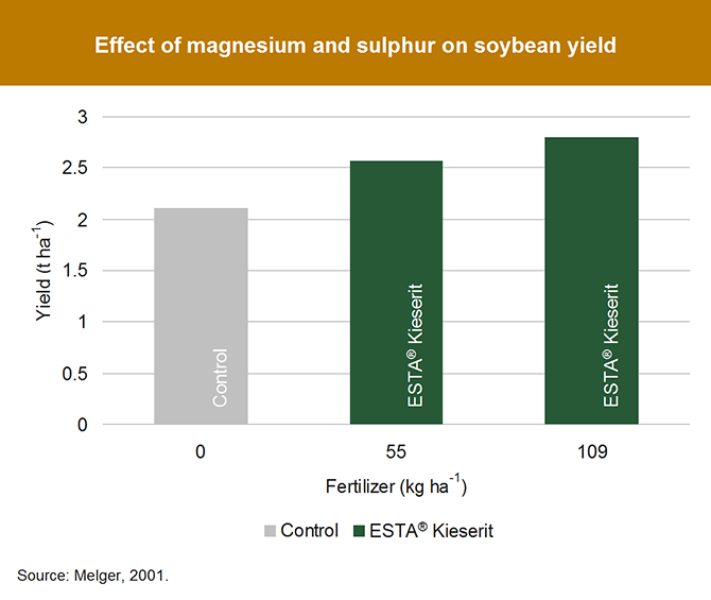 Boron and manganese - for maximum exploitation of the yield potential
Under less favourable soil conditions and intensive cultivation practices, the foliar application of boron and manganese helps to ensure consistently high yields. Both micro-nutrients have marked influences on productivity:
boron is important for cell wall formation, water balance as well as synthesis of energy rich assimi-lates like sugar and starch
boron deficient plants often show poor pod fill and consequently produce small, poor quality seed
boron promotes N-fixation and ameliorates Aluminium toxicity
managanese activates various enzymes and is therefore in many ways crucial for the plants`normal metabolism
managanese is required for the formation of chlorophyll ,as well as for the transformation of nitrate into protein and the formation of amino acids
managanese improves the disease tolerance of plants
Fertiliser recommendations
Soybean takes up 30 kg K2O and 7 kg MgO per ton of grain produced of which 15-20 kg K2O and 4-5 kg MgO are removed with the harvested grain (equivalent to 25-33 kg MOP and 15.4-19.2 kg ESTA Kieserite respectively or 37.5-50 kg Korn-Kali). Under no-till conditions and when nutrient losses by leaching are negligible, K and Mg application can be adjusted based on removal and soil nutrient supply.
Under humid conditions and soils prone to leaching an application of 90 – 120 kg K2O (equivalent with 150-200 kg MOP or 225-300 kg Korn-Kali) and 20 – 25 kg MgO (equivalent to 77-96 kg ESTA Kieserite) are recommended to sustain high yields and to maintain soil K and Mg fertility levels.
Heavily depleted soils and soils which tend to fix K because of their clay content may require rates up to 180 kg K2O (equivalent with 300 kg MOP or 450 kg Korn-Kali) and 50 kg MgO (equivalent to 192.3 kg ESTA Kieserite).
The application of Mg in the form of ESTA Kieserite guarantees that the sulphur requirement of soybean is also satisfied, especially on tropical soils with poor organic matter content.
On heavily weathered soils prone to micronutrient deficiency or situations inducing B and Mn deficiency (heavy liming), a foliar application with micronutrients (EPSO Microtop or EPSO Combitop) is recommended.