Vegetables
Quality vegetables for human nutrition
Potassium for consistent yields
Sulphur and magnesium for safeguarding quality
Which potassium fertiliser is right for which crops?
Overview of chloride-sensitive and chloride-tolerant vegetable varieties
Quality vegetables for human nutrition
Vegetables play an important role in human nutrition. Thanks to their high content of valuable ingredients and their low fat con-tent, vegetables are quite simply healthy. Vegetables greatly contribute to providing humans with minerals. This is why the provision of an optimal supply nutrients to vegetable crops is of the utmost importance.
Differing from arable crops, harvest-time of vegetables is very often in the middle of their vegetative development. It is there-fore necessary to provide a the full supply of nutrients very early on.
Premium vegetables need to meet a range of requirements:
Market value
Interior quality,
health quality
Suitability
Taste
Nutrients
Immediate consumption
Colour
Minerals
Preservation
Shape
Vitamins
Size
Fibre
Weight
Consistency
Potassium for consistent yields
Central to the achievement of high yields and premium quality in vegetable crops is an optimised supply of potassium. Most vegetables are characterised by high potassium demand, which is usually three times higher than their nitrogen requirement. Potassium fertilisation depends on the K removal in the crop, wherein five groups of vegetables may be categorised.
Vegetables classified in accordance with the crop's potassium removal
Range
K2O
(kg ha-1)
Vegetable variety
Very low
< 100
Broccoli, french beans, peas, lamb's lettuce, radicchio, red radish, Brussels sprouts, runner beans, asparagus
Low
100-150
Cauliflower, kale, lettuce, parsley, leeks, spinach, sweetcorn, onions
Medium
150-200
Chinese cabbage, oak-leaf lettuce, kohlrabi, savoy cabbage
High
200-250
Chicory, iceberg lettuce, endive, white radish, red cabbage, tomato, white cabbage
Very high
> 250
Fennel, carrot, red beet, celeriac, zucchini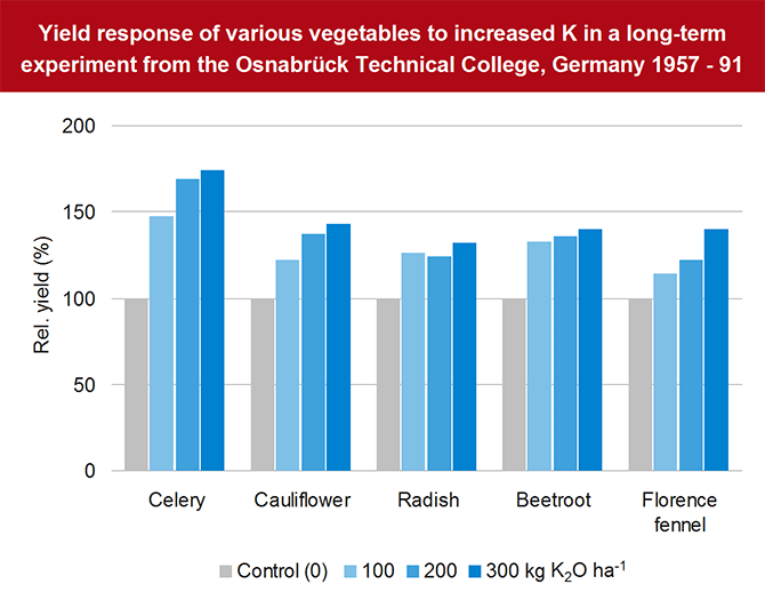 Sulphur and magnesium for safeguarding quality
Sulphur – for premium quality
In order to consistently produce premium quality, all field vege-tables require a relatively high supply of sulphur, in addition to potassium and magnesium. Fertilisation with sulphur promotes the development of aromatic oils in crops such as alliums and mustard, which are responsible for both taste and aroma, and may enhance the flavour and smell of a variety of brassicas, as well as of asparagus. A lack of sulphur due to insufficient fertili-sation will result in a poor N/S-ratio, so that the nitrogen applied is not properly assimilated. This can result not only in increased nitrate leaching from the soil, but may also lead to raised nitrate content of the crops.
Magnesium – increases market value
Magnesium is responsible for chlorophyll development and for the vegetables' pigmentation. Insufficient 'greeness' significantly lowers the vegetables' market value, and may cause metabolic disturbances or nitrate accumulations. Magnesium requirement is comparable with phosphate requirements: depending on yield level and type of cropping, vegetable crops will take up 30-70 kg MgO ha-1.
Which potassium fertiliser is right for which crops?
Most field vegetables are very sensitive to chloride, at least during their juvenile stage (as seedlings and as plantlets). This is why fertilisation before sowing and before planting, as well as top-dressing should always include sulphate forms of potassium and of magnesium.
The beneficial effects of sulphate based potassium fertilisers can be shown in numerous studies, among others by comparison of the germination rates.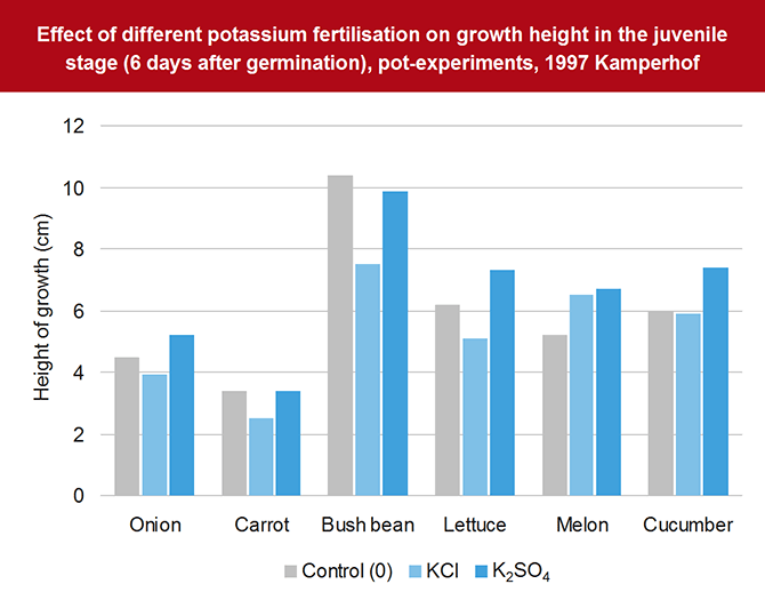 Overview of chloride-sensitive and chloride-tolerant vegetable varieties
| Particularly sensitive to chloride during the entire vegetation period | Chloride- tolerant |
| --- | --- |
| Bean | Swiss chard |
| Chicory | Celeriac |
| Cucumber | Red beet |
| Pumpkin | Asparagus |
| Zucchini | |
| Onion | |
Fertiliser recommendations
As most vegetables are sensitive to chloride, attention should be paid to using predominantly chloride-free fertilisers.
Recommendations for soil conditioning
Patentkali: depending on soil condition and requirement group (table 1 – start page) 300-1200 kg ha-1 should be applied.

On magnesium-deficient locations, and in case of a wide K:Mg-ratio in the soil, use approximately 200-300 kg ha-1 ESTA Kieserite gran.
Recommendations for foliar fertilisation
EPSO Top may be used as a supplementary measure for soil conditioning; otherwise EPSO Microtop as a pre-ventive treatment of boron and manganese deficiencies. Use once or twice, as 2-3%-solutions (20-23 kg ha-1).

For chloride-sensitive crops, as well as for fertigation, use Hortisul. For foliar fertilisation, solutions of up to 4% (4 kg Hortisul per 100 litres) are recommended.