Deficiency Symptoms ABC
Nutrient requirements vary from crop to crop. Our K+S experts are prepared to support you by providing essential information on optimal crop nutrition. If your plants show acute deficiency symptoms, you may use these deficiency photos to identify what's missing. As soon as you have identified the problem, foliar fertilisation will fix it immediately. In order to prevent nutrient deficiencies, our potash- and magnesium-containing base fertilisers with their high nutrient availability will make an important contribution.
New app available: KALI-TOOLBOX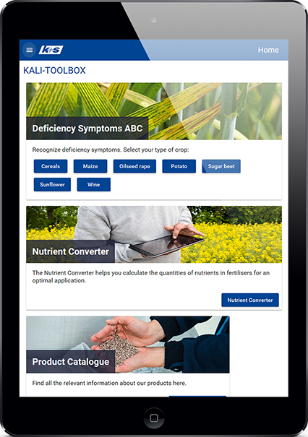 Our KALI-TOOLBOX app allows you to identify deficiency symptoms right where you are, in the field, via smartphone or tablet. In addition to descriptive photographs and charts this free app also provides appropriate fertilisation recommendations. To download, click here:
Deficiency graphs
Simply select your type of crop – and you will immediately see photographs and descriptions of the deficiency symptoms relating to the various nutrients.
How to identify deficiencies – things you should keep an eye out for
Foliage will tell you a lot. Nutrients such as potassium and magnesium are particularly mobile within a plant. The nutrients are transported to younger parts of the plant by the phloem stream, so that deficiencies are more frequently observed in older foliage. In contrast, under-supply of sulphur, manganese and boron is most easily discerned in younger leaves. These nutrients are relatively immobile within the plant. Newly formed growth may therefore be deficient, resulting in necrosis and chlorosis.
Copyright
All texts and pictures are subject to the copyright and other laws for the protection of intellectual property. They may neither be copied for circulation, nor altered, nor used on other websites.