Agricultural consulting
Optimal use of fertilisers is decisive for yield and quality of agricultural products – and therefore also for the farmer's economic success. Requirements on appropriate fertilisation vary, depending on local conditions, crop and cultivation method. Choosing the right amount of nutrients, the appropriate mode of application and the best time for fertilisation are essential for success.
K+S agronomists are available to help growers meet the specific conditions at their locations, providing answers to questions related to nutrient requirements of their crops and soils. We are committed to helping farmers all over the world with customised fertilisation recommendations.
Benefit from our agronomists' expertise, at your location. On request, our advisory service in Kassel will provide local contacts.
Central office advisory service in Kassel, Germany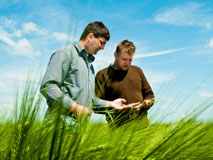 K+S Minerals and Agriculture GmbH
Applied Research and Advisory Service Agro
Bertha-von-Suttner-Straße 7
34131 Kassel
Germany
Phone: +49 561 9301-0
Fax: +49 561 9301-1416
agriculture@k-plus-s.com