Agricultural research and advice
K+S supports agricultural practice all over the world by providing expert knowledge on fertilisation, in order to achieve high yields and excellent quality, and to maintain these even under adverse climatic conditions. The foundation of the advice provided is our extensive research activity.
Research: tradition and future
For more than 100 years, K+S has been involved in agricultural research, always looking for solutions to agronomical challenges, such as how to increase productivity, how to improve soil fertility and how to efficiently use resources.
Over the years, we have established an ongoing exchange with scientific research institutions and agricultural experts, and conduct field trials in the world's most important agricultural production areas. The results of these research activities are transferred to agricultural practice via our advisory service and by professional publications. Research focuses on balanced fertilisation, specifically regarding current and future global challenges. These challenges include a growing world population and the effects of climate change.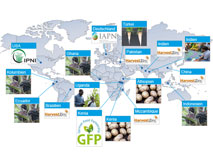 Around the globe we cooperate with universities and recognised research institutions in order to find answers to some of the most pressing questions related to plant nutrition. On this world map you will find examples of our International Research Projects.
The Institute of Applied Plant Nutrition
The Institute of Applied Plant Nutrition (IAPN) is a research cooperation between the University of Goettingen and K+S. The objective is to strengthen basic and practice-oriented research in the field of plant nutrition and fertilisation. As an intersection between science and practice, the IAPN picks up on topical issues, pools existing knowledge and transfers new findings to agricultural practitioners.
Extensive know-how: the advisory service of K+S
The advisory service of K+S aims at transferring existing and new research findings in the field of plant nutrition to agricultural practice. Farmers all over the world benefit from this know-how, which enables them to implement new and promising methods in their fertilisation practice, and to thereby improve yields and quality of their harvests. Our commitment and our expertise represent a significant contribution to securing global food supply and to protect the livelihoods of farmers.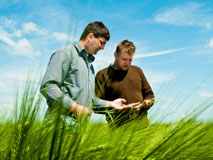 Optimal use of fertilisers is decisive for yields and quality of agricultural products. You are invited to benefit from the expertise of agricultural experts in your area. Advisory Service
An international network of K+S agronomists is available to provide advice and support, to farmers in all of the world's important agricultural regions. Our experts have a long-time experience in plant nutrition, and are ready to assist farmers by providing relevant information on the nutrients potassium, magnesium, sulphur and sodium, and on the micronutrients boron, manganese and zinc.
An important aspect in our advisory practice is the conservation of soil fertility. Healthy soils with a balanced nutrient content are the basis for yield – and for food security and livelihoods – of future generations. It is therefore essential to maintain soil fertility – and to improve it wherever it is necessary. Appropriate and balanced fertilisation is a significant contribution to this goal.